Staircases are often overlooked in our homes, they can be left untouched for Years. A staircase renovation from Hawthorn Carpentry & Joinery can bring a tired staircase back to life and make it match with existing trends, while also being cost-effective!
If you have a structurally sound staircase then renovating them will give your whole home an updated look without having to replacing the stairs completely.
We are staircase contractors based in Stockport, we've been in the industry for over 40 years restoring & renovating staircases. covering the Cheshire, south Manchester area.
Our Staircase Renovations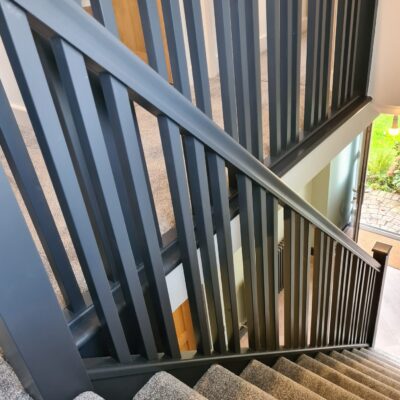 Painted Staircases
We offer a extensive range of staircase parts that we install all finished in a colour of your choice. Painted wooden staircases are the classic centre piece to any home, totally customisable to suit existing décor or trends.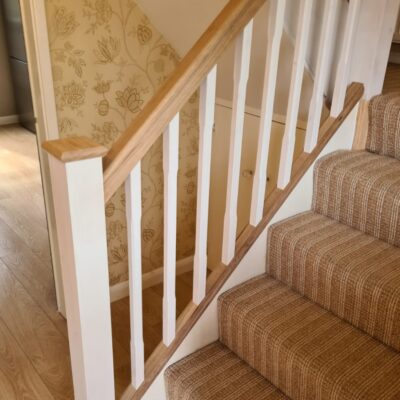 Oak & White Staircases
White painted staircase contrasting with oak. A timeless classic which looks stunning in any home.
White spindles and newel posts with beautiful oak handrails and newel caps.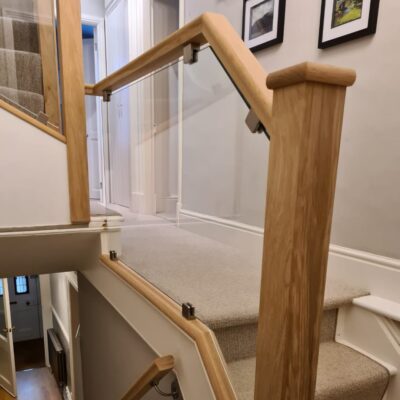 Clamped Glass Staircases
Glass stairs are an increasingly popular alternative to traditional wooden staircases. Glass balustrades are a fantastic way to open up light into your hallway.
There's a range of different finishes brass or polished & brushed stainless-steel clamps. As well as different types of glass clear, frosted or smoked.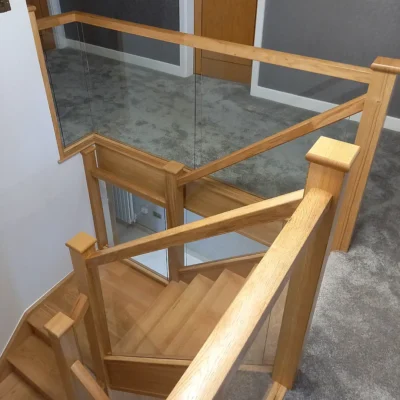 In-Line Glass Staircases
When you want a stairs renovation that is both sleek and functional, there's no better choice than our in-line glass design. The natural light pouring through these banisters will make your home feel like it has never been so bright.
We use 10mm safety glass fitted into a grove on the handrail & baserail. This sleek, streamlined look eliminates the need for brackets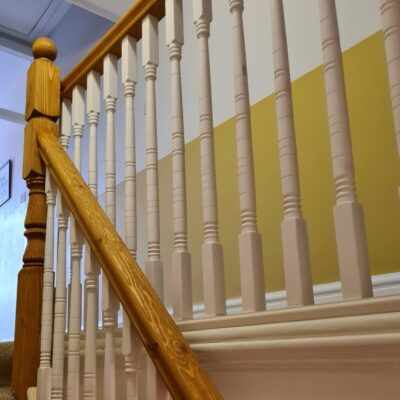 Traditional Staircases
If you have a period property and looking to restore your staircase back to original, or looking to bring a traditional look to a later staircase we have a large selection of staircase parts to choose from. Including bespoke copied parts to match original exactly
Oak and glass staircase - Bramhall, Cheshire
``I can't recommend Hawthorne Joinery enough. Mark put a new staircase and glass balustrade along with fitting 6 internal doors at our house. They were punctual, gave a competitive price, cleaned up each evening and did a fantastic job. Would definitely give them a call for a future work.``
-
16th August 2021
Staircase make-over - Cheadle, Cheshire
``Hawthorn Carpentry & Joinery refurbished an old and ugly 1960's staircase which included the removal of a integrated cupboard at the top of the stairs and turned into a clean bright stairwell ready for me to carry on rest of work in house. I would not hesitate to recommend this company, Mark and John are delightful young men focused on their workmanship.``
-
6th April 2021
Staircase Renovation - Handforth, Cheshire
``Hawthorn Joinery have just replaced my ugly built in bannister for a beautiful oak one with white spindles. And also replaced all my internal doors for beautiful new ones. I can't recommend them highly enough. Really friendly guys, who work to an extremely high standard. Attention to detail is fabulous. I couldn't be happier with the work they have done. An absolutely first class job.``
-
5th July 2021